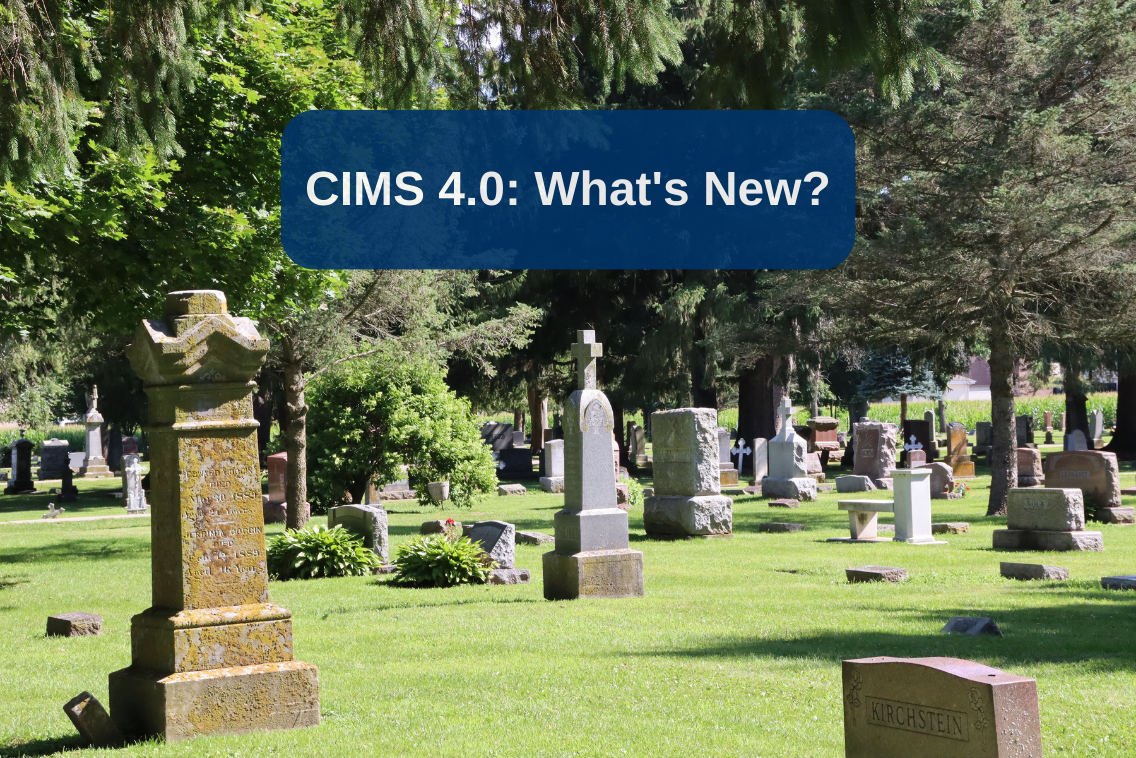 Keeping software up to date is important for retaining functionality and improving the user experience. The CIMS team is dedicated to developing cemetery management solutions designed to meet the challenges faced by modern cemeteries, backed by the latest technologies. That's why we've rewritten the entire CIMS code base — over 1.2 million lines of code! This new update addresses several pain points and introduces a few new functions, all while retaining the cemetery management features our customers know and love. In addition, this update will make it easier for us to continue to improve the software in the future. All clients were migrated to the new version on December 12th.
Improved Functionality
Drop-Down Fields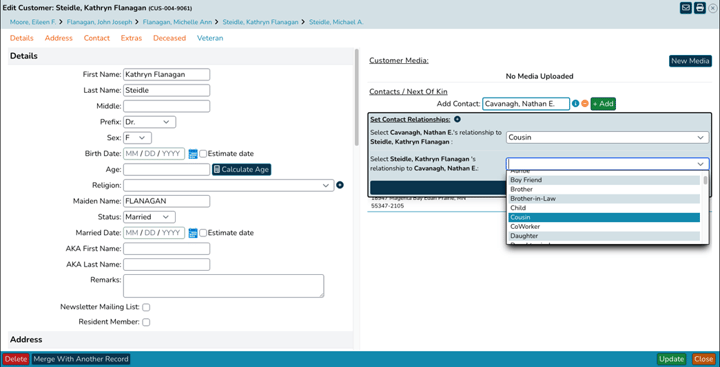 Drop-down fields have been simplified to prevent slow page loading times. We have rebuilt the "constants" drop-down selector to show the first 25 options, and as you scroll, more options will be added to the list. Use the arrow keys to highlight successive options, and pressing the enter key will select the highlighted options.
Searching and Sorting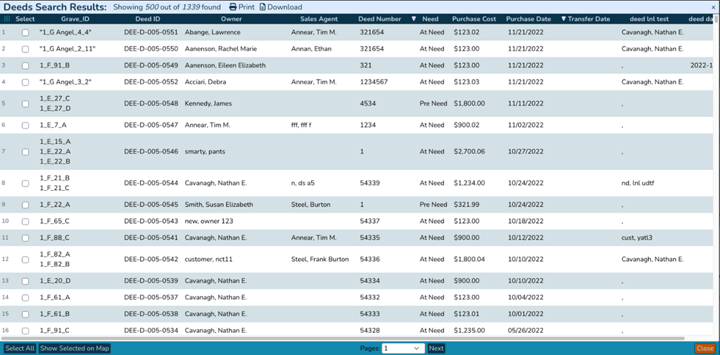 Sorting makes organizing and accessing your cemetery data a breeze. Search results are now sortable based on more than one column to help you narrow down your search and provide more options to organize your data. Blank cells are no longer counted in sorting to ensure accurate results. In addition, we have added a "Sort" function to some of the tables within CIMS to allow for the greatest flexibility in displaying your data while maintaining a consistent user interface.
Updated User Experience
Accessibility

To make CIMS more accessible to a larger audience we adopted a new more readable font, and we increased font sizes where we could. We've adopted a softer, more modern look, and the CIMS color scheme has been further incorporated into the main interface. To support non-English speakers, CIMS now incorporates multi-language capabilities. We've also reduced the number of pop-up windows to provide a more streamlined user interface and ensured that pop-up windows will no longer cover up the navigation bar.
Navigation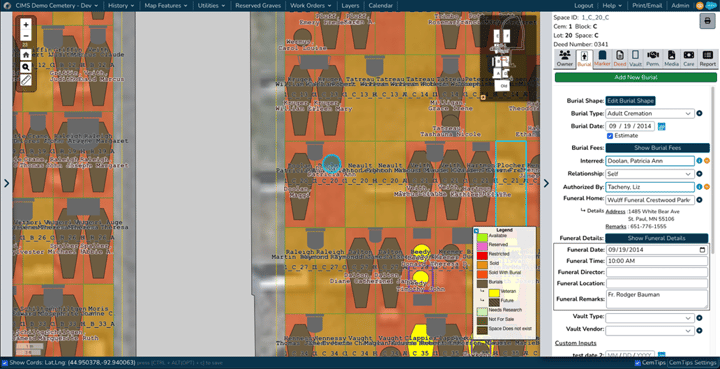 Some changes were made within the top navigation items for ease of access. The navigation item "Map" ("Space" for Gold and Light clients) is now called "History." The navigation item "Work Order" was reorganized to simplify operations. Additionally, print options appear under the "Print" button and email options appear under the "Email button" when the buttons are clicked.
Data Input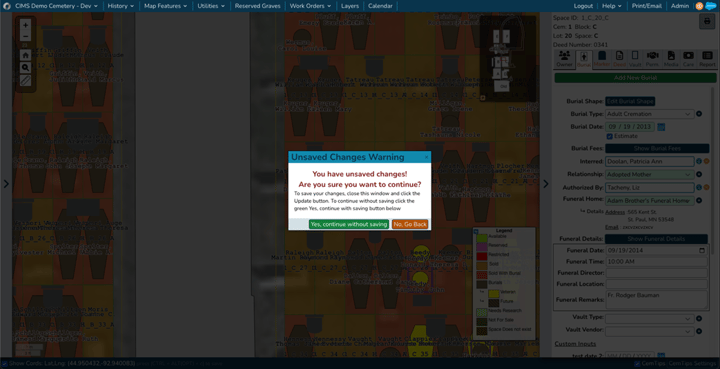 All customer edit inputs are now located on one screen separated by a divider. There are "jump-to" links at the top to auto-scroll the list of inputs to the desired section. Instead of being limited to just two customer records open at one time, a new feature will allow multiple customer records to be open at once. Customer record lookup fields (Last Name Lookups) have been redesigned to stand out more to prevent confusion with the browser's built-in auto-fill list. There are now dedicated remove and restore buttons to make the removal of customer records more intuitive for when a customer record change is needed. When the value of an input field changes and has not been saved, the field will show a green background. If you navigate away by clicking on a different tab or attempting to load a different space, an "Unsaved Changes" warning will pop up. This feature aims to ensure that no data is lost.
To learn more about the CIMS cemetery information management system, request a free product information package. Want to see the new update for yourself? Schedule a 1 on 1 demo with one of our team members. Or, if you're ready to take the next step, request a quote for your cemetery.