How to Highlight Veteran Burials in CIMS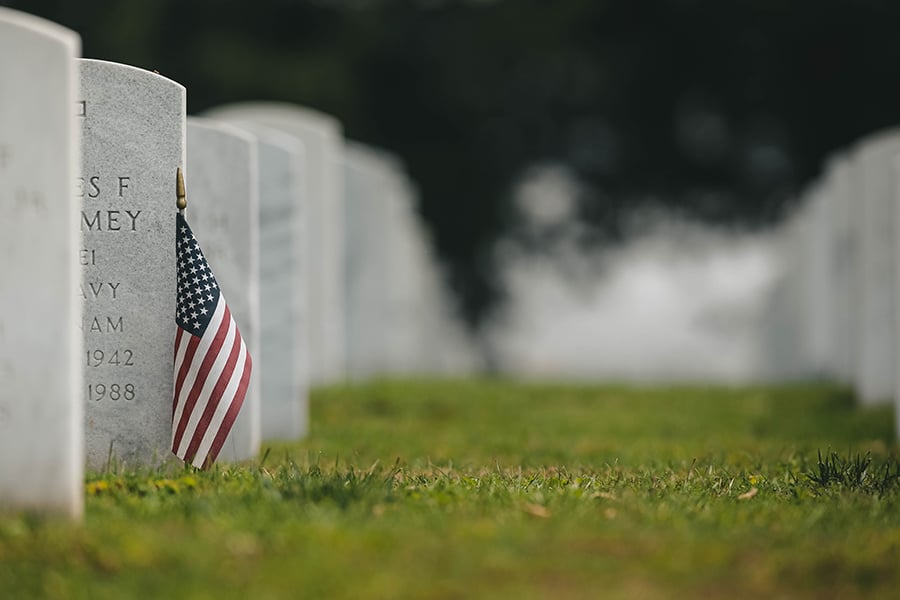 Imagine this. You're leading your cemetery's Memorial Day efforts.
Every year, you and a group of local volunteers walk your cemetery grounds, placing American flags in front of veterans' graves. It's an important tradition. It honors their service and sacrifices. It brings your community together, too.
You've marked the holiday this way for as long as you can remember. You even have a friendly flag vendor in town. And of course, you have your trusted handwritten log of veteran burials. It has stood up to the test of time—that is, until this year.
Come Memorial Day weekend, you realize that your paper map is missing. Yikes!
Accidents happen. But a missing document shouldn't derail your cemetery operations. The good news? For CIMS Platinum users, it won't.
In this post, we provide a step-by-step guide for highlighting veteran burials at your cemetery using CIMS Platinum.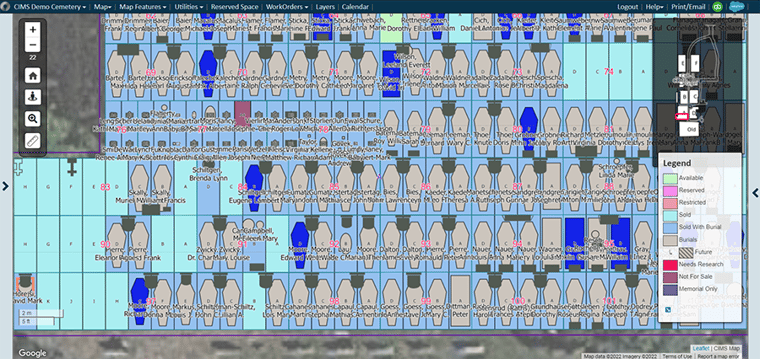 Why cemeteries need to know where veterans are buried
Cemeterians need to know where every veteran grave is so that they can commemorate their sacrifice. Veterans of the United States Armed Forces risked everything to serve their country. Many cemeteries honor their service with special decorations. When national holidays like Memorial Day and Veterans Day come around, cemetery staffs busy themselves by marking veteran burials with wreathes, flags, ribbons, and other special objects.
Highlighting these burials on your CIMS cemetery software map helps staff quickly identify where to place decorations every year. Plus, using CIMS Platinum to mark veteran graves helps prepare your cemetery staff for inquiries. Veteran burials matter to the public. Fellow veterans and community members may want to visit the graves of deceased service members.
Highlight veteran burials in CIMS Platinum
Using CIMS Platinum, cemetery managers can highlight veteran burials with colors of their choosing. The best part? It's easy to do.
Follow these steps to identify all veteran graves on your cemetery map.
Open CIMS Platinum
Access your CIMS Platinum account using any device that connects to the Internet. Enter your credentials to log in and view your cemetery's map.
Note: Color-coding veteran burials is only available for users with CIMS Platinum cemetery maps.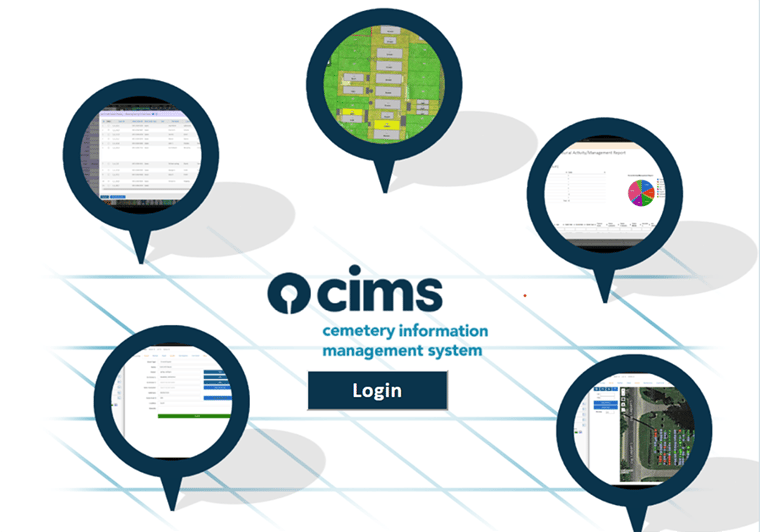 Click Layers in the menu bar
Locate the Layers button in the top menu. Click it. A new window will display your current map layer settings.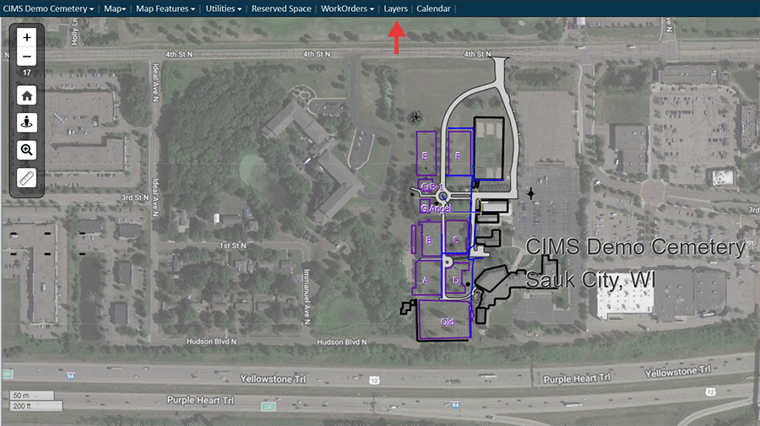 Select the Burials tab
Several tabs should appear on the left side of the map layer settings window. Click the Burials tab. This tab allows you to update your settings for viewing veteran burials.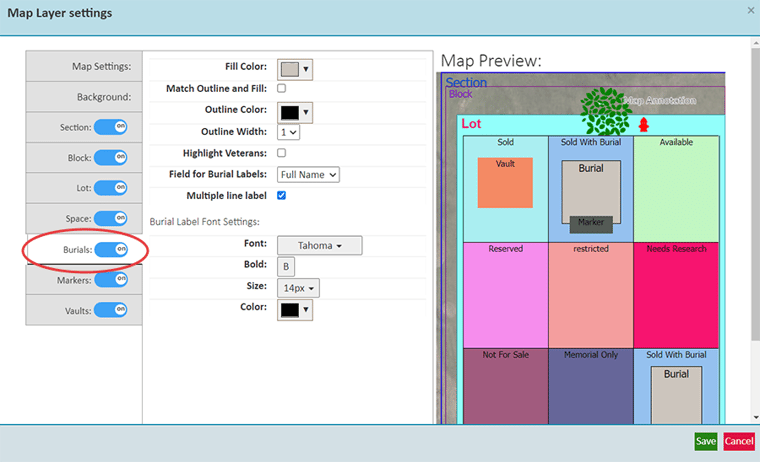 Check the Highlight Veterans checkbox
Click the checkbox next to the phrase Highlight Veterans. After you check the Highlight Veterans box, a new Veteran Color field will appear.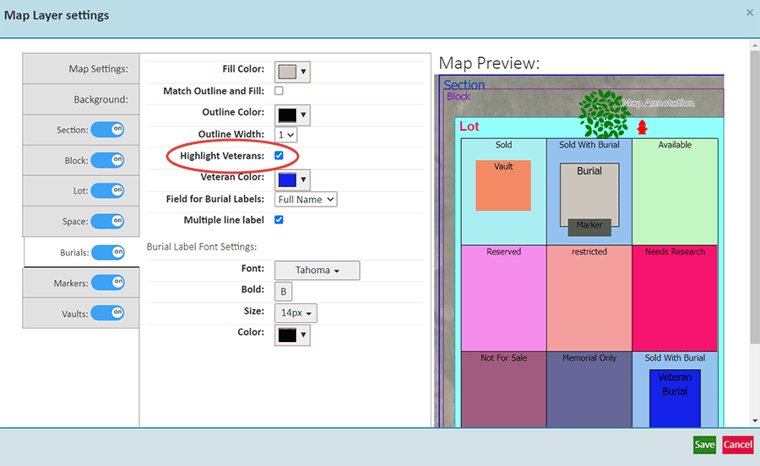 Choose a color to designate veteran burials on your cemetery map
Using the Veteran Color selection tool, choose a color for veteran burials. All veteran graves will be highlighted with this color.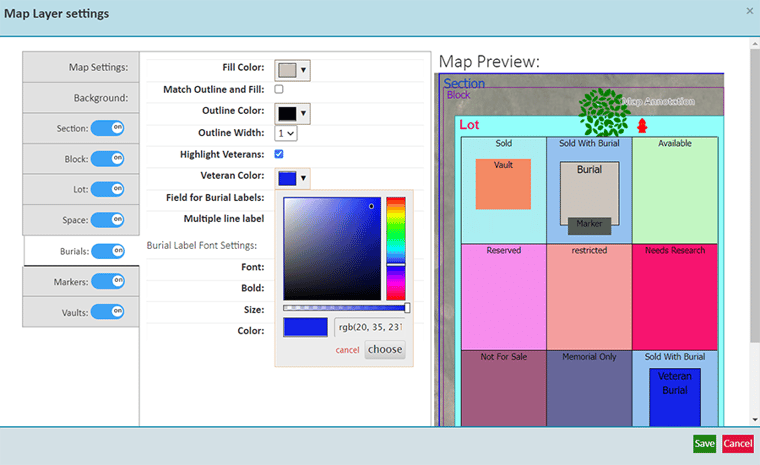 Click Save
Don't leave without saving your changes! Click Save in the lower right corner of the map layer settings window to update your CIMS Platinum map.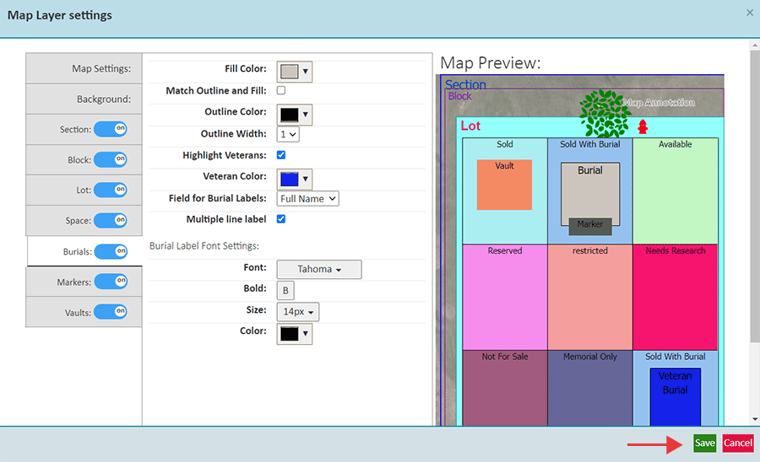 View all veteran burials on your CIMS map
You did it! After you save your changes, all veteran graves will be highlighted with the color you selected.
Pro tip: Print this map to help your staff find veteran burials while navigating your cemetery grounds.
See what else you can accomplish with CIMS cemetery software
Cemetery mapping software helps cemeteries simplify management and serve customers in new ways. Want to explore how cemeteries like yours are using CIMS to streamline operations? Schedule a demo with a CIMS expert.
You can sign up for your virtual conference here.