Case Study: Building Picture-Perfect Cemetery Maps With Drone Imagery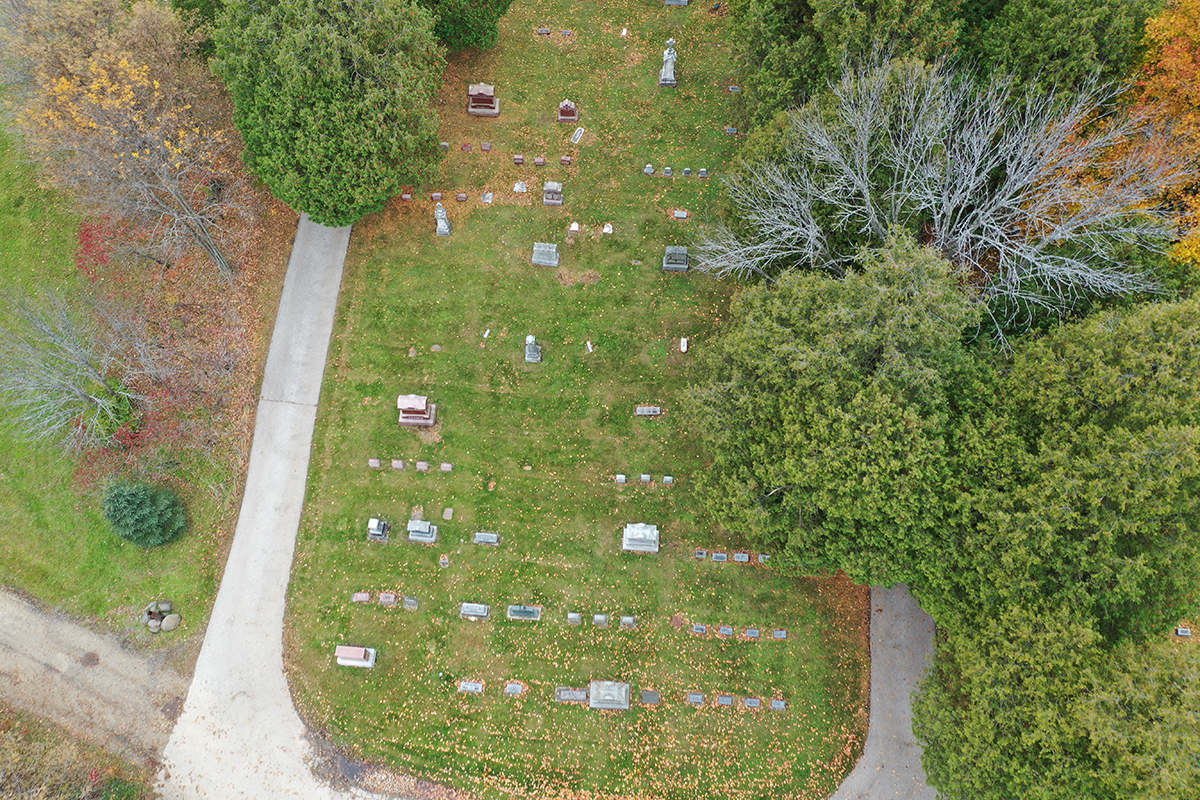 St. Francis Borgia Cemetery has served parishioners of St. Francis Borgia Catholic Church in Cedarburg, Wisconsin, since long before the invention of the airplane. But today the cemetery is flying drones in service of building better digital maps.
Historic cemeteries aren't strangers to modern technology. Between ground penetrating radar, walk-to-grave navigation, and cemetery mapping software, cemetery managers harness a variety of powerful tools to simplify management and ensure accurate record-keeping.
St. Francis Borgia Cemetery installed CIMS cemetery management software in 2002 and moved their records to the cloud in 2018. More recently, their staff undertook another cutting-edge project: creating a spatially accurate digital map of the 12-acre cemetery by investing in drone imagery. For St. Francis Borgia Cemetery, this project was 175 years in the making.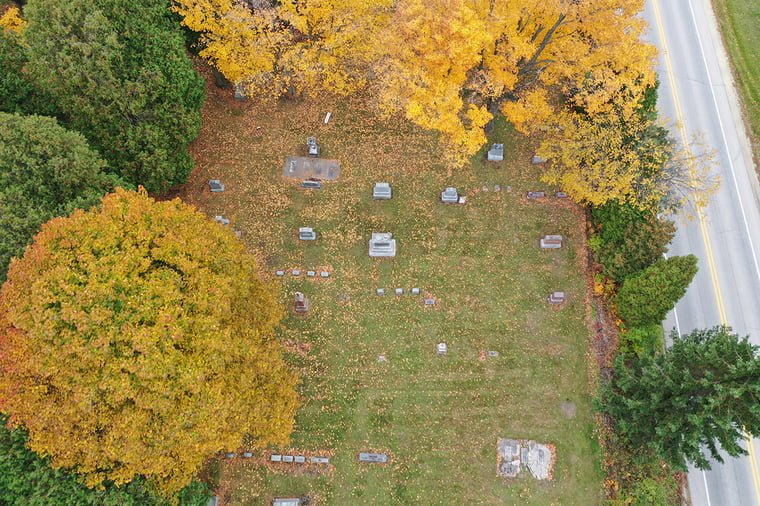 Challenge: Creating more accurate digital maps
St. Francis Borgia Cemetery enlisted CIMS because they wanted to create a digital map that was true to the history and natural beauty of their storied cemetery.
Investing in drone imagery was the culmination of a larger project for the cemetery: confirming records and identifying usable spaces. The staff wanted to investigate one of the cemetery's historic spaces—three acres of grounds with spotty records and buried headstones. After studying the area with ground penetrating radar, the cemetery identified 177 burials that weren't recorded. They also found empty plots that could be sold.
At the end of the day, the cemetery staff needed to update their digital map to reflect these findings and market the newly available plots. With drone imagery, the staff hoped to create more accurate and interactive online maps to share with parishioners.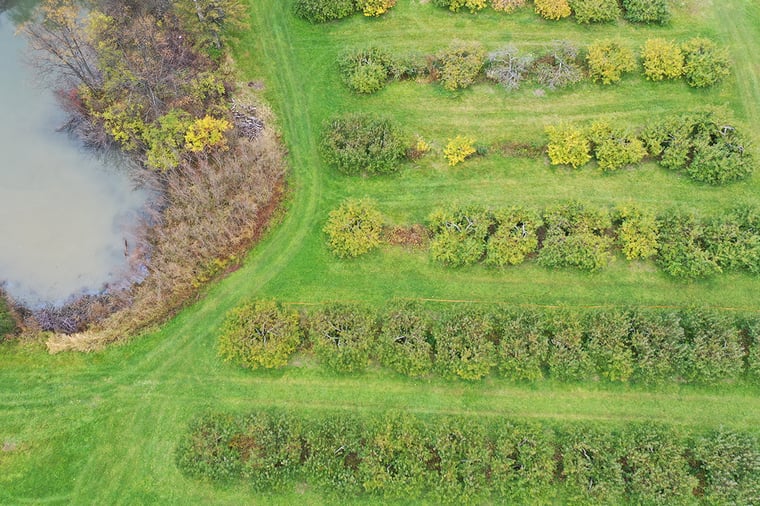 Approach: Surveying the ground, taking to the air
Members of the GIS mapping team at CIMS surveyed, mapped, and plotted the historic three-acre section of St. Francis Borgia Cemetery, identifying GPS coordinates of the unknown burials and incorporating them into the new cemetery map.
Then the CIMS team used a drone to capture high-resolution, spatially accurate orthophotos of the entire 12-acre cemetery. These photos were integrated into the cemetery's personal CIMS Platinum website, serving as a backdrop for St. Francis Borgia Catholic Church's digital burial map.
"CIMS cemetery software is well-known in the cemetery industry, but what really sets CIMS apart is our ability to pair our technology with civil engineering and surveying services," said Director of CIMS Brandon Finley. "We want to do whatever it takes to help our clients."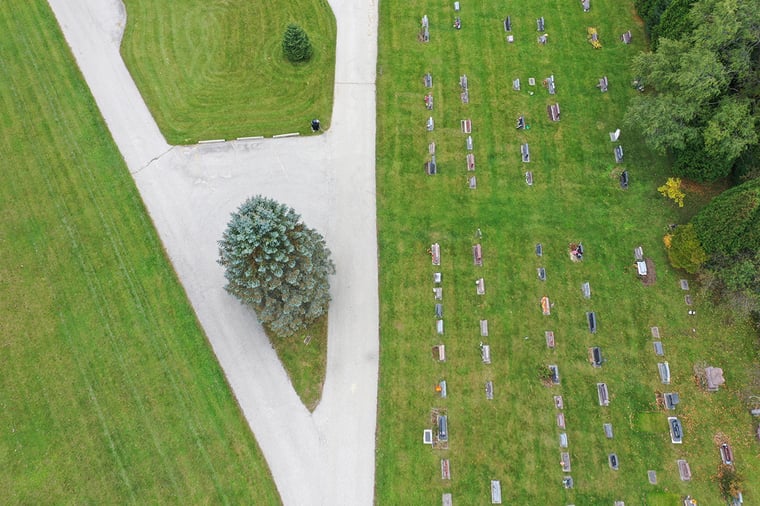 Outcome: User-friendly maps that capture the cemetery's beauty
With help from CIMS, St. Francis Borgia Cemetery seamlessly connected all on-the-ground operations with the cemetery's digital maps and database. The updates have already improved their cemetery management processes.
"Since the imaging was done throughout the entire cemetery, it's easier to find a grave anywhere when an inquiry comes in," said St. Francis Borgia Cemetery Coordinator Brian Willbrandt.
Willbrandt and other cemetery staff can now show clients exactly where available plots are located—even if parishioners aren't able to visit the cemetery grounds. St. Francis Borgia Cemetery's online map shows all cemetery monuments, trees and vegetation, utilities, roads, and driveways. CIMS captured aerial views of the cemetery at the height of autumn, showcasing the beauty of the grounds and vibrant fall foliage.
"They say a picture is worth a thousand words and the drone imaging is proof of it," said Willbrandt.
About CIMS cemetery software
In 1998, CIMS (Cemetery Information Management System) was born out of a commitment to the dedicated cemetery representatives who keep their cemeteries running. Over the past two and a half decades, the CIMS team has worked closely with more than 1,000 municipal, religious, and private cemeteries to create software and modules that simplify record-keeping and streamline everyday tasks.
Interested in learning more about drone imagery? Request a quote for your cemetery here.